For the last handful of summers we've gone to Edgewater Park Lodge, but this year, because of some scheduling issues we had to choose a new cottage resort. After a ton of searching on the internet, we came up with Cedars of Lake Eugenia Cottage Resort.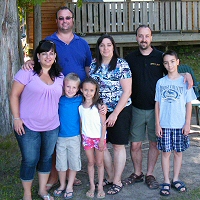 Though my wife and kids, and our friends Andrew and Jenn and their son, Carter might disagree a little here and there, below is how I would rate our vacation spot. Keep in mind that my rating system is completely subjective. The smiley faces are assigned by how close the venue comes to meeting my expectations according to what I look for in a cottage. How close the resort comes to delivering on advertised promises also factors into the decision.
The Details
Our beachfront chalet was immaculate! The bathroom, as our friend Jenn put it, was the least scary she'd ever seen in a cottage. Even that statement doesn't do it justice though. It was spotless!
There was no sand around the tub drain, or on the floors, and the shower curtain appeared to be new. The microwave looked like it had either just been purchased and put in, or someone painstakingly cleaned every crevice. The beds were crisply made as they might be in a decent hotel room, and the white linens were bright and clean. We didn't have any reservations about putting our food in the refrigerator at all, and even the oven liner didn't look more that a few weeks old.
Though all of these things might seem elementary, by and large, these types of cottage resorts are often full of garage sale grade appliances and fixtures. They're also quite often only as clean as their hosting staff figure folks will expect a place to be that's "in the middle of the woods". The hosting family of this resort takes no such shortcuts.
Nearly everything we might have needed was present or available. The chalet even had a salad spinner, and a really large colander which came in handy on our pasta night. Though there was no cleaning brush for the barbeque grill the first time we went to use it, a quick walk over to the office and Andrew was back with one in a couple of minutes.
There were a bunch of Muskoka chairs and small end tables around the fire, and a picnic table by the deck. I even noticed that should we have needed more chairs, there were several more stacked near the office.
There was a rowboat and three canoes communally available, which is plenty for the three chalets and six cottages. The last couple of days were problematic when the three teenage cretins next door decided that each one of them would monopolize their own canoe. That's not really the fault of the resort operators, but more an issue of inept parenting on the part of the neighbours.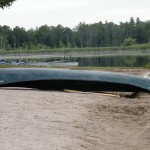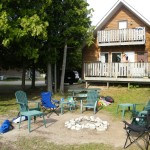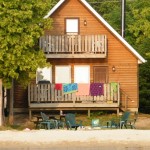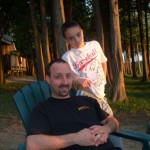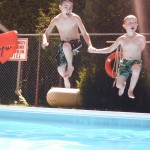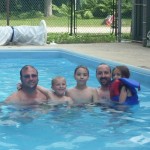 Swimming at the beach wasn't altogether possible, but the in ground pool on site was a nice way to take a dip, and we used it daily.
The chalet was air conditioned, and had a fireplace (which we obviously didn't use). There was cable TV available for rainy days, and a DVD player to put the kids' favourite movies on while they ate breakfast.
There was a games room that included a billiards table that we used once, and a children's playground that we didn't given the readily available beach.
As glowing as this portion of my review is, there was one glaring short-coming. There was no ice available on site. Though to some it may seem petty, when cottaging there is scarcely more important an amenity as easily obtainable ice. You use it in beverages, or to keep beverages and certain food items cold. A cooler full of warm beer is about as useful as an empty cooler. The resort operators assured us that readily available ice is at the top of their list of impending improvements, but as of the time of our July 2011 vacation we had to drive about ten minutes to get it every time.
All in all, there was very little that we could have needed that wasn't already provided.
Given that we had one of the beachfront chalets, my rating here ends up fairly high. Having a stretch of sand and water right outside your front door makes your morning coffee better, improves your picnic lunch, and makes evening sunsets by the fire all the more spectacular. It was a pebble beach, and though more actual sand might have been nice, sand castles were still entirely possible with the right mix of water in the bucket.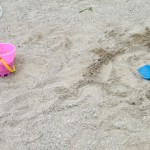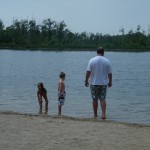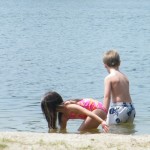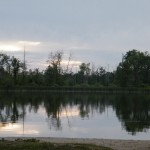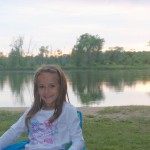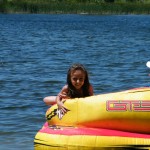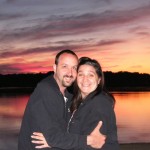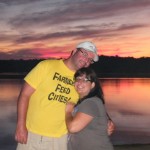 The only downside was that swimming for adults was pretty much impossible. By the time you got out far enough for it, the lake was simply too dense with weeds and trees to actually swim. The pool offered some respite from the heat, but a beach area to swim in rather than soak in would have been quite nice.
This element is quite outside the control of the resort owners, but merits a mention given how important it is to us in a vacation spot. Lake Eugenia is man-made, created in 1915 when the Hydro Electric Power Commission of Ontario flooded 1,900 acres they had purchased in 1913 that included farms, stone houses and some forest. Owners could move their homes if they wanted to but no more trees could be cut.
The flooding ultimately created Lake Eugenia and also gave them more control over water levels. Development has continued since then, and today there is a reservoir to insure power can be produced year round. Ontario Hydro penstocks now descend down the escarpment just south of the Beaver Valley Ski Club and at the base is a generating station that creates six megawatts of power.
As picturesque as the lake is, and though fishing derbies are hosted there annually, boating can get pretty tricky. The lake is incredibly dense with plant life that skims the surface, and huge fallen trees are everywhere. Open boating is really only feasible if you know the lake very well, and in the process of navigating Andrew's boat motor sustained some damage. Of the three propeller blades, one was bent, and has its side chewed up, while one remained pristine. There was also the underpass for the causeway to negotiate to get to the other side of the lake where the deeper areas were better suited to boating.
The nature of the lake also made it discouraging to tow the floating raft behind the boat, which we like to do with the kids every year. Canoes, kayaks, and pedal boats count too though, and this lake is fantastic for some quiet skimming across the water.
In summary, the lake is beautiful and perfect for family canoeing. It becomes slightly nightmarish to navigate safely in a motorized boat though.
Again, not within the control of the resort owners. It doesn't help that we might very well not be the anglers we thought ourselves to be. We did catch some fish, but all of them quite small. The time of year may have contributed to our fishing woes as well. It may be that they were in deeper waters than what we could find in this lake.
Though a pertinent element to where we choose to vacation and thereby meriting a mention and rating, the resort can't be to blame. This element can be ignored by anyone for whom fishing isn't as important a component.
The website for Cedars was a refreshing improvement over most. Created by the gang at "Wired Together", it's definitely among the better cottage resort websites I've seen. Though a compliment to be sure, searching around and looking at other resort websites does offer proof that excelling in this area of the web is relatively easy, however.
As these types of vacation spots go, their corresponding websites are usually horrendous. Given that I craft websites professionally, looking for a vacation spot nearly moved me to vandalize my own laptop.
What they do really well is make booking an online reservation incredibly easy using the Pronto 2 Graphical Reservation Platform. They also endeavour to keep the bookings up to date and current so that you know at a glance whether or not your intended vacation dates correspond with vacancies at the resort. They also use Google maps to show their location and enable you to get directions.
Information regarding rates and amenities are nice and easy to find, and they also list local attractions in case you'd care to venture away from the already perfectly relaxing environment they provide.
Even Cedars' website could stand a few improvements though. As I've mentioned before when discussing resort websites, there should be plenty of high quality photos to peruse. Though there's a fairly respectable number of photos on their website, they're just too small. They can't be clicked on for a larger view, and visitors can't contribute (although that's not altogether necessary).
Though I understand more than most the cost of constantly updating a website, there are still creative ways they can accomplish having a wealth of photos. For example, a Facebook place page is free and offers the opportunity to create albums for each cottage. You could conceivably upload hundreds or thousands of relevant photos for free, thereby offering a potential guest lots of eye candy to help them make a decision. Even guests could be allowed to upload photos of their vacation experiences, and the comments on the page would amount to a stream of testimonials. In the case of this particular spot, that can only mean a ton of positive press.
Now that we've returned from our vacation, all I seem to be able to think about is next year's escape. In looking around the net for cottage resorts like Cedars of Lake Eugenia in Ontario, I've come to think maybe I should specialize in making websites for these poor cottage owners.
We had a great week at Cedars, and it's probably the best self-catering cottage resort we've been to. We all agreed that we'd love to go back. The only thing that might keep us from doing that is if we were to find a place that has everything this place did, but with improved boating conditions.
Andrew looks forward to our vacation week every year to get the boat out and really put it through its paces. Unfortunately, that's not really possible here, though once again it stands to mention that it's really no fault of the resort operators. Most everything that they can control, they do very well.
Ideally, finding a fantastic boating lake in Ontario, then transplanting Cedars Cottage Resort there would solve our dilemma. Barring that, we may well return if another great place like this one on a boating-friendly lake can't be found.