My friend Andrew Bawden and I have known each other for years. We worked together while Andrew was attending the University of Windsor, and although he's from London and lives there now with his wife and son, when we're together it's as though not more than a day has passed since we last hung out.
Every year, our families vacation together in the "near North" of Ontario. We have been cottaging together now for about a half dozen years.
This year, thanks to some scheduling conflicts at my wife's job, her vacation was moved up a week — messing up our cottage booking.
As a web designer, in years past and certainly this vacation season, I've been astounded at how little consideration most cottage and cottage resort websites get from their operators, if they even have one. Don't get me wrong — I don't expect that at the height of the season they'll be able to make time to update cottage availability calenders every time someone books a vacation. I also don't think they can possibly predict and answer every potential question that a renter might have. But having announcements emblazoned across their web pages that relate solely and specifically to last year's rental season is a bit silly.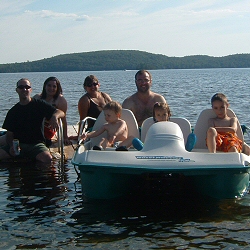 Of course, clients balking at quotes isn't new to me. Therefore, I'm sure when these folks shopped around for a website, the "do-it-yourself-what-you-see-is-what-you-get-web-package" they found sounded perfect. Even if I take off my web developer hat though, as a site user, 99% of these cottaging websites do the lodges and chalets they represent very little justice. What's worse, they make a lot of work for the rental provider. These people are busy enough, and they need to be able to easily update information on their cottage website without either "breaking" it, or having to remember the complicated way they got through it the first time. Every one of them should have a Content Management System that makes uploading photos easy, and updating pages as simple as sending e-mail.
Oh, and the pictures…
There is probably no greater frustration than clicking on a 150 pixel by 150 pixel thumbnail image to have a closer look, and having a beautiful lightbox open up in the center of the web page, only to have it display the exact same 150 pixel by 150 pixel thumbnail image! Let's be honest — if I'm looking for a spot to vacation, it's probably a reasonably large distance from where I live. Since there's no way I'm going to be able to visit all these potential rental cottages or cottage resorts to see how things look, all I have to go on is pictures. That being the case, I need some decent ones to look at…and when I say decent pictures, let's be clear. They have to be taken with a reasonably decent camera, they should be no more than two years old, they should be sized at least 600 pixels wide, and there should be a ton of them.
I agree that the bulk of the money made from these cottage and cottage resort rentals should go to keeping them up and improving them so that annual visitors can continue to enjoy them. I would like to think that's where some of the money that doesn't go into their websites does go. But the fact is, the only way for people to really assess this kind of rental these days is the internet. Some kind of solid financial and time investment should go into a website that serves to keep your cottage rented.