When Mamo Bistro opened in May of 2004, we didn't set the tables with salt & pepper shakers. As the Maître d', I also didn't waltz around tables with a pepper mill "come un Ristorante Italiano", a practice I consider completely absurd by the way. Do these kitchens honestly keep pepper from the reach of their Chefs?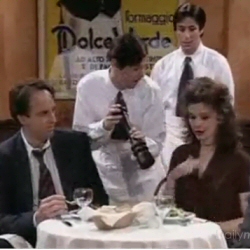 Mamo was a quaint twenty-six seat bistro, featuring a small seasonal menu. The Chef and owner was my friend Ryan Odette, and he contacted me to handle the dining room as soon as he found out the restaurant was going to be his. Over the four and a half years we operated we were given awards and accolades from various publications, including four stars for food and four stars for service from Detroit's Metro Times, back when they were still giving out stars.
It's important to note that the "No Salt & Pepper" policy was not in place because my gifted friend Ryan was such a maniacally egotistical chef. He was, and still is, as humble as they come. That policy was of my doing because I was well acquainted with Ryan's talent for layering flavours. Since my friend was happy to allow me the latitude to run the front-of-house as I saw fit, I decided that I didn't want "The Customer is Always Right"1, a dogma that just won't die, to destroy his culinary treasures.
The fact is, the customer is absolutely not always right, though their perception can be argued as being correct. Even they know this on some level, and that's why they go to newfangled restaurants from time to time rather than cooking at home. In fact, very often the customer can be dead wrong — but don't think me a snob. I don't believe that because I consider the average customer an idiot. I believe that because I consider the average restauranteur an idiot, and though I digress (and before this begins to get into an article for another day), it's fair to say that I consider anyone striving to be an average anything, an idiot.
When one visits a unique restaurant, they should enter with a certain lack of expectation for familiarity, a gastronomic sense of adventure, and a degree of trust in what has been conceived for them. That's why it's called "an experience".
If a customer wants cookie-cutter food offerings, void of the soulful mastery and heart-felt passion of a talented independent Chef or restauranteur, they should visit any number of puke-and-choke joints with their version of a "me too" menu that covers all the bases.
It's not that hard to find dumps serving steaming bowls of banality if that's really what one is looking for in a restaurant excursion. Visit one soon, and who knows…they might even let you second-guess their Chef and decide how much pepper there should be on your food before you've even tasted it.
Duane Neveu has spent over twenty years slinging hash of some type or other in Windsor area restaurants. This article will be appearing alongside several other rants at a new website devoted to the restaurant industry and the people who work in it. Watch for Resto-Rants, coming in the Summer of 2011.
The phrase "The customer is always right" was originally coined by Harry Gordon Selfridge, the founder of Selfridge's department store in London in 1909. ↩
Tags:
opinion
,
video